As 2018 is proclaimed the "Year of the Bible" in Ukraine, Lutheran youth and teens are receiving their own Ukrainian-language Bible Stories in Pictures from the Lutheran Heritage Foundation.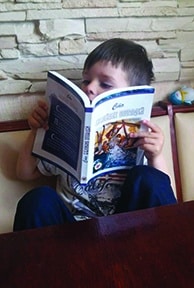 LHF has translated and printed 1,000 copies of the colorful Bible storybook in the Ukrainian language. Laid in a comic book style, its 350 pages include 94 Old and New Testament stories with text taken directly from Scripture.
Rev. Slavik Horpynchuk, bishop of the Ukrainian Lutheran Church, has been enthusiastically overseeing the distribution of the book throughout Ukraine.
"It's especially good for us in the Ukrainian Lutheran Church to have materials that are appealing for teenagers, because so often there aren't a lot of them," Bishop Horpynchuk said. "The books are either too simple or too advanced. This is just an excellent book. The colorful illustrations on every page encourage the reader to keep reading. The illustrations convey such deep emotions and make the Bible stories come to life! It's even interesting and appealing to adults."
Throughout history, Ukraine has had a rich tradition in the Christian faith. However, generations of oppression by the atheist Soviet regime throughout much of the 20th century took its toll on the faith of the people. The ideals of communism left no room for religion, and under intense persecution, many Christians abandoned their faith.
The effects of this imposed atheism are still being felt decades later.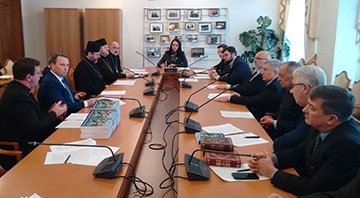 "One of the greatest challenges facing our church body is a lack of resources for teaching our people," explained Bishop Horpynchuk. "Many of our members are young families, and they need materials to teach their children about the Savior, Jesus Christ. This is especially true among young parents, who are themselves recent converts to the faith."
The Ukrainian Bible Stories in Pictures has also made an impact at the highest levels in the Ukrainian government. The book was printed just in time to be presented to the Ukrainian Parliament's Committee on Foreign Affairs, where the chairwoman, Hanna Hopko, is a practicing Christian.
"Mrs. Hopko stands for Christian values and is promoting the 'Year of the Bible' in Ukraine," explained Rev. Horpynchuk. "She was very happy to have a presentation of our Bible Stories in Pictures at her committee."
Only with your help can this important work continue. Prayerfully consider how you can help support LHF projects.
Night was falling, and young Kitwana was nervous. Where would he sleep tonight, his first night on his own? He rubbed his eyes, recalling the...