From an email received at LHF:
"Good morning! Do you have materials in the following languages? If so, I would love 5 copies of each to be sent to Martin Luther High School: Czech · Simplified Chinese · Arabic · Albanian · Burmese · Vietnamese · Italian · French · German · Portuguese · Spanish · Thai · Macedonian" – Dr. Patricia Wouters
Why would an American LCMS high school need LHF catechisms in 15 different languages? For the very best reason: to share the Gospel of Jesus Christ with 60+ international students who attend the school.
Dr. Wouters is the director of English as a Second Language (ESL) at the Lutheran High School Association of Greater Milwaukee (LHSAGM) in Wisconsin. The books she ordered have been given to their international students – most of whom are atheist, Buddhist or Muslim – at 3 different Lutheran high schools. The majority of the students, from Albanians to Vietnamese, reside in the high school's residential dorms, sometimes for all 4 years of high school.
"One of the things about the international program here is that we have students from so many countries, with a variety of religions and beliefs mixed in," explained Seth Bahr, director of the school's World Cultures program. "And it's almost as though they're working with two completely new languages: English, and then also religion in general. It can be very difficult to explain the concepts behind Christianity. Try explaining the Transfiguration to someone who has never known Jesus. It's quite a challenge!"
God's Word, so clearly explained in simple books like A Child's Garden of Bible Stories and Luther's Small Catechism, have helped bridge the communications gap.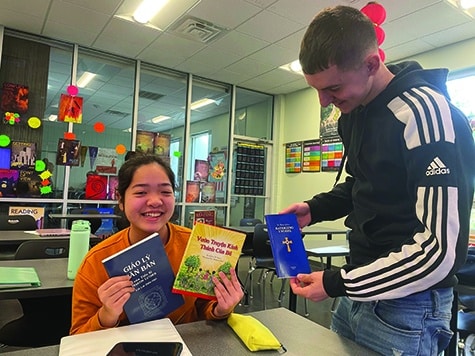 "New believers who are really interested in learning more about the faith carry such a burden because they can't even understand the basics of our Christian faith," Seth said. "These books in their own languages are such a game changer!"
Through these books and the faithful witnessing of teachers, staff and students, the Holy Spirit has opened doors to calling new believers in Jesus Christ at the Lutheran high schools.
"At first, some of the international students will complain. 'Why do I have to take religion class? I'm an atheist,'" shared Dr. Wouters. "Or they might say, 'Oh, chapel is so hard! It's hard to stay awake.' But within a month, these kids are participating and it's one of their favorite activities to do at school. Some students will get baptized, which is incredible!
"In the beginning [of their studies], I ask whether they believe in Jesus Christ," she continued. "Most say no, or a typical teenager who has had some foundation in the faith might say, 'I'm not sure.' Then by the time they graduate, I may ask again, 'Do you believe?' I've never had anyone answer no. Their hearts are changed."
Sometimes, it's not only the international students' hearts that have been changed. "Having students from all different cultures has been a tremendous opportunity for our students to learn to be respectful of other people's beliefs, and to be polite and kind," Seth reflected. "We might not always be able to explain everything perfectly, but we can definitely show Christ through our actions."
When he looks out over the hallways of Martin Luther High School, "I see what heaven is going to look like," Seth concluded. "Heaven will be a spectrum of people from all around the world. I think sometimes we get caught up in our own little bubble and forget just how big the world is. Christ came for everybody!"
Click here to learn more about LHSAGM's residential program. To order books from LHF, click here.
Night was falling, and young Kitwana was nervous. Where would he sleep tonight, his first night on his own? He rubbed his eyes, recalling the...