This summer, a Lutheran school teacher, a military supply chain manager and a 12-year-old girl and her father shared the Gospel with children in Poland using LHF's "River of Life" VBS curriculum.
For the past 10 years, the LCMS Office of International Ministry (OIM) has coordinated short-term mission volunteers to run summertime English as a Second Language (ESL) vacation Bible school camps in Poland. This year, OIM organized 9 camps in Poland and one in the Czech Republic, each attended by 20-50 kids.
"While Americans plan and run the camp—teaching lessons, leading music and crafts—they definitely don't do it alone," explained Anna Gonzalez, DCE and manager of OIM's Short-term Mission Training and Engagement. "The local pastor might be involved in opening and closings, and church volunteers serve as translators, provide the snacks and are extra hands in the craft area."
Parents are eager to enroll their children in the VBS camps to improve their English conversation skills, and along the way, the children hear the Gospel time and again.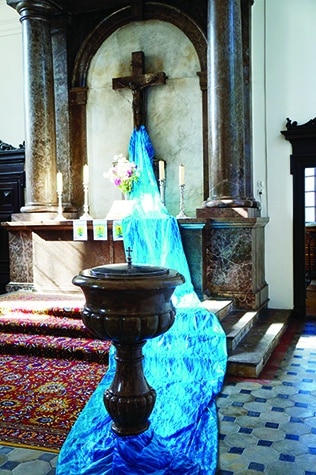 Gonzalez said she first learned of LHF's "River of Life" program several years ago while she was serving in the parish, and she appreciated how the materials could be photocopied and used again in coming years. During the five days of VBS, the students learned how God uses simple water to save His people. Through the stories of creation, Noah, Moses crossing the Red Sea, Jonah and the baptism of Jesus, the children were reminded of their own baptisms and their Heavenly Father's love for them.
"I really liked the theme of water, and some of the churches we were at did a lot of creative things with it," said Alyssa Anders, an LCMS missionary who adapted "River of Life" to work in the ESL setting. "One experience that really stood out to me was that I had them all memorize a Bible verse in English, Mark 16:16, 'Whoever believes and is baptized will be saved.'
"We'd practice the verse together as a group during morning openings, and I started asking for volunteers to say the verse alone," Anders recalled. "The first volunteer was a little girl, maybe seven years old, and she had no fear! She came up by herself, said the verse in English boldly, loud and clear. After that, everyone wanted to come to the front and say the verse in English.
"How much of what we taught sank in? I can't know," she concluded. "But I do know that all the kids can say that Bible verse from memory, and we know that God's Word does not return void! Everything we did planted seeds in those kids' hearts."
Another benefit of the short-term mission opportunity is establishing connections with Poland's Lutheran church body, the Evangelical Church of the Augsburg Confession. Though the LCMS is not in partnership with Polish church body, Gonzalez emphasized what she called a "grassroots connection."
"These are very small churches that have gone through oppression by the former Communist regime," she said. "To encourage them, literally by our presence, is a very important piece. Imagine you have a church of 100 people, and 5 extra volunteers give up two weeks of their summer to come help you. That's a huge boost, just to say you're not forgotten. We care about you, and we care about the people in your community."
"In some ways, Poland is no different than any other country in the world. As kids grow up, they wonder if what their parents are telling them about God is really true," Anders added. "[When kids attend these VBS camps], they're getting the same message from these missionaries: Jesus died for your sins!"
Click here to preview LHF's "River of Life" VBS program. To order the full kit for your congregation, send an email or call (800)554-0723. Cost for the full program is $125.
If you're interested in serving as a VBS volunteer to Poland next summer, click here. Travel dates for 2019 are July 16-29 and July 31-Aug. 12.
Throughout the 2022-2023 school year, the students' mission offerings added up. Fifty cents here, a few dollars there... and soon the gifts from dozens of...