LHF at Work in South Sudan
LHF at Work in South Sudan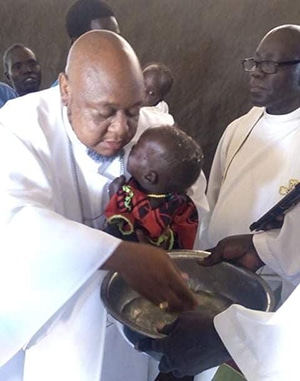 When LHF was less than two years into its mission, a new call for help came, this time from Sudan: "I want to learn more about Lutheran teachings."
Andrew Elisa was the son of an Anglican priest but was discouraged by the inconsistencies he saw between what the Bible taught and what the Anglican Church practiced. Did any church body faithfully follow what Scriptures taught?
LHF answered Andrew's call by sending him five copies of Luther's Small Catechism and a Book of Concord. Excited by what he read, Andrew shared the books with his Christian friends and the rest, as they say, is history.
Since 1994, LHF has been providing support to the Lutheran church that grew from these early efforts. The Evangelical Lutheran Church in South Sudan/Sudan (ELCSS/S) numbers over 150,000 members. This assistance has come in the form of translation and publishing (Luther's Small Catechism, hymnals and the like) as well as coordinating and guiding their seminary program at the Concordia Lutheran Institute for the Holy Ministry (CLIHM).
To learn more about the ELCSS/S, visit www.elcss-s.org.
CONCORDIA LUTHERAN INSTITUTE FOR THE HOLY MINISTRY (CLIHM)
In response to a desperate need for pastors to serve their fast-growing church body, the ELCSS/S in 2000 formed the Concordia Lutheran Institute for the Holy Ministry, or CLIHM. The seminary is a four-year residential program (three years of academic study, followed by a year of vicarage) centered in Yambio, South Sudan.
There is an immense need for volunteer instructors (ordained LCMS pastors) at CLIHM, teaching such subjects as Old and New Testament, Homiletics and Liturgy. Remedial English teachers are also needed. To learn more about this volunteer opportunity, click here.
CHILDREN'S SOUTH SUDANESE MISSION PROJECT:
Looking for a children's mission project for your Sunday school, VBS or day school students' mission offerings? Check out School for Pastors in South Sudan, where your students' mission offerings ensure that seminarians have travel to and from the seminary, a bed to sleep in, food to eat, and books and supplies. What a gift!
A BRIEF HISTORY OF THE ELCSS/S: "WE PLAN, BUT GOD DETERMINES THE WAY"
"It is evident that even before LHF's formation, the Almighty God had determined yet another plan: creating and organizing a Lutheran Church body in Sudan known today as the ELCSS/S," says Bishop Peter Anibati Abia. "It is true as it is said, 'We plan, but God determines the way.'"
SOUTH SUDAN NEWS ARCHIVE
Click below to read stories about the church in Sudan and South Sudan.
At the South Sudan seminary: "They deserve a chance to learn about Jesus and the Truth"