For where two or three gather in My name, there am I with them. – Matthew 18:20
In most parts of the United States, finding a Lutheran church to join can be taken for granted. But imagine living where the only places to worship are high Roman Catholic cathedrals and the Kingdom Halls of the Jehovah's Witnesses. Suddenly, a Sunday morning begins to feel much more isolating.
When Americans Michael Morizio and his wife Nancy Jane moved to Italy to open a touring business 25 years ago, they faced exactly this situation. Located 100 miles from Rome, their region of Abruzzo consists mostly of Catholics and Jehovah's Witnesses.
"After six years in Italy, we began to feel pain in our hearts that so many of the people with whom we had made contact and become close friends with in Italy had never heard the Gospel – not really," said Michael, who is now studying for the ministry. "They might have grown up in the Roman Catholic Church, but they were stuck trying to work out their own salvation."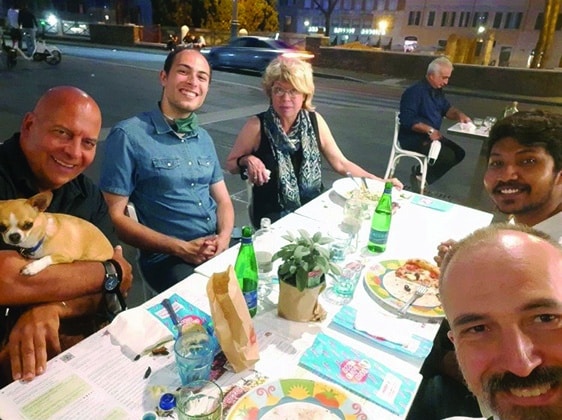 The Morizios joined the LCMS' Office of International Mission (OIM) Eurasia team to better share the Gospel with their friends and neighbors, as well as to help build the first confessional Lutheran church in Italy. Now, they have connected to LHF to translate the books they need to share the Gospel in Italian.
Luther returns to Rome
It was a perfect fit for LHF.
Rev. Dr. Matthew Heise, LHF's executive director, said, "If we see a project where we can get confessional literature into the hands of present and future believers, LHF will do it. Luther, of course, came to Rome while he was living, and now he's coming back with his teaching!"
Before the Morizios began working in Italy, Rev. Sorin Trifa from Romania would fly there once per month, bringing the Divine Service to one, single Lutheran believer.
"Since our arrival on the mission field, the Lord has seen fit to bless us with several new confessional Lutherans," said Michael. "We encountered two young men in Rome who wanted desperately to be a part of confessional Lutheran church. We regularly have attending our services another man from south of Rome; others from Sicily, Calabria in the south; and others from Trino and the Veneto in the north, including another woman from Padua welcomed in by the very first confessional Lutheran living there.
"Right now, we have a Zoom service (Service of the Word and Preaching) online for everyone each Saturday at 3:30 p.m., then periodic 'in-person' services (either Divine Service or Service of the Word and Preaching) in Rome or in Padua," he said.
Having been raised Roman Catholic himself, Michael is in the perfect position to understand what needs to be said and heard when sharing the Lutheran faith.
"Law and Gospel – the words of Christ preached boldly and correctly, result in saving faith to those who hear it," he explained. "If you ask an Italian person 'Do you know if you are saved and going to heaven?' the vast majority will respond, 'I don't know. I can only hope so, and that I've been good enough.' This is the uncertain quagmire into which the Roman Catholic church baptizes its members."
The trap of Jehovah's Witnesses
Another large group of people desperately needing to hear the Good News are the 260,000 Jehovah's Witnesses in Italy.
"One town, a 10-minute drive from us, boasts a Jehovah's Witness population of 90% of its residents," said Michael.
"The reason for this is that they go door to door and actually offer 'hope' to the average Italian. But as we know, it is a trap – and a seductive lure into this most dangerous cult which denies the divinity of Christ and the Holy Trinity," he explained. "The Jehovah's Witnesses are truly a bankrupt cult devised by the Evil One to steal souls for Hell. But my wife and I will not give up, certainly!"
That's why Michael translated LHF founder Rev. Robert Rahn's devotional booklet "Jesus Never Fails." "I see the huge need for translations of confessional Lutheran theological writings into Italian," said Michael.
Rev. Heise agrees. "We started off with the 'Jesus Never Fails' booklet, and we hope that the Small Catechism and perhaps a children's Bible storybook will follow," he said.
The Italian edition of "Jesus Never Fails" will be available from LHF in the late summer or early fall.
 — by Anna Bagnall
      LHF staff writer
God instructed Joseph to take care of his little family, but the path God set for him was unexpected. It led first to Bethlehem, then...