What does a grandmother in the Democratic Republic of Congo (Africa) have in common with a young pastor in Haiti, or with an immigrant from Burundi now making a living in Milwaukee, Wisconsin?
Though separated by 7,000 miles of ocean, plains and jungle, these people would have no problem talking with one another, because they all speak the same language: French.
In fact, more than 97 million people worldwide, from 29 different countries, speak French as their mother tongue. Many of these countries have established Lutheran churches growing within their borders.
What they never have had, though, is a common Lutheran hymnal.
Through the faithful giving of LHF supporters, this situation is about to change.
On the heels of the recent successful launch of the Spanish Lutheran Hymnal, LHF is now preparing to print and distribute 10,000 copies of a new French hymnal, uniting French-speaking Lutherans across at least 10 countries.
Liturgies et Cantiques Luthériens: Édition Africaine includes more than 100 hymns that cover the Church Year, the Sacraments, marriage, Christian vocation, death, sanctification and more. There is also a selection of daily prayers, the liturgy for the Divine Service, an order for Matins, and various canticles.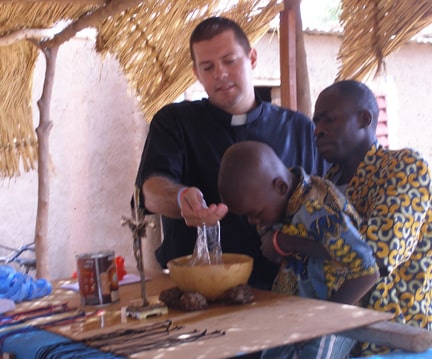 For many French-speaking Lutheran churches, this will be the first time they have ever had a complete hymnal in their own language.
"There is a beautiful, well-done French Lutheran hymnal that was produced by the the Comité Liturgique Francophone de l'Église Luthérienne du Canada for French-speaking congregations in the Lutheran Church-Canada," explains Rev. Dr. Dinku Bato, coordinator of LHF translation projects in Africa. "However, it is quite large, expensive to produce and difficult to transport in the African context."
To overcome this challenge, a skilled team has worked with LHF to translate, edit, design, print and distribute a "mission edition" of Liturgies et Cantiques Luthériens.
Rev. Dr. David Somers and Rev. David Saar of the Lutheran Church-Canada and Phillip Magness, an LCMS missionary to West and Central Africa have been the driving forces behind the hymnal's rich content. Hymns have been specifically chosen to provide a solid foundation for young and fast-growing church bodies like those in the Democratic Republic of Congo, where Rev. Somers says Lutheran churches "have just mushroomed in the last 20 years."
Accordingly, "some of the hymns will have African melodies, but we haven't changed the contents or words of the original hymns," Rev. Somers noted.
Whether in Africa or in Haiti, "hymnals are either absent or scarce," said Rev. Bato. "This hymnal will unite our world's French-speaking Lutherans in a common liturgy, so they may worship with one voice."
Reflecting on the wide variety of cultures this hymnal will serve, Rev. Somers noted that the people are "highly diverse, and most not of Lutheran background. But the common bond is the faith. The faith this hymnal proclaims becomes the lingua franca!"
As immigration becomes increasingly common worldwide, the French hymnals will also be embraced by French-speaking Lutheran congregations here in the United States.
"Believe it or not, there are now more people worshipping in French on a Sunday morning in the United States than there are in French-speaking Canada," said Rev. Somers. "In the Missouri Synod, there are at least 5 congregations in Michigan, Wisconsin, South Dakota and Kentucky that are French-speaking, and they're all connected. Many are former Pentecostals who have become Lutheran in their faith and doctrine, but they have no liturgy or French-speaking mentors to guide them."
Pastors, church musicians and lay leaders from a half-dozen countries including Congo, Burundi, Rwanda and Haiti will soon receive this guidance at a hymnal workshop in Montreal, Canada.
"Liturgies et Cantiques Luthériens: Édition Africaine becomes, on a practical level, the tool to express the bond that we have in worship life of the faith community," Rev. Somers concluded. "It provides a common medium of expression for worship, and worship of course means not only worshiping God, but also binding us together as His people."
Throughout the 2022-2023 school year, the students' mission offerings added up. Fifty cents here, a few dollars there... and soon the gifts from dozens of...