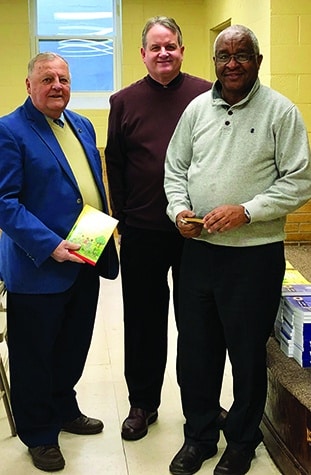 Rev. Zerit Yohannes, a member of the LHF board of directors, is working with the LCMS Michigan District to help better educate pastors from Africa who have immigrated with their people to the United States.
Before starting new lives in the United States, many of these pastors lived in refugee camps to escape civil war, tribal fighting or famine in their home countries.
They brought little in the way of physical possessions to America, but one thing they brought with them is faith in Jesus Christ.
"Few of the pastors are Lutheran," explained Rev. Yohannes, who is one of their teachers. "Some were Catholic, some were from evangelical groups and so on, but that difference is not difficult for them to get past. They value learning, and they are a very proud people. While in the refugee camps, they were limited. Their Christian groups there were not organized like that are in a stable country, with a stable society. But they come with faith."
Sixteen men from 6 states are taking part in the program, with the goal of becoming Lutheran and starting LCMS congregations for their fellow immigrants.
"It is better to train the leaders, because we cannot reach all these hundreds and thousands of people at one time," Rev. Yohannes explained. "But we know there are these pastors, struggling to gather their people in their own place, and we can teach them. As their leaders become Lutheran, their people will follow."
Making connections
The African immigrant pastors connected to Rev. Yohannes through the work he and his family do with immigrant families in Michigan.
"We meet these people through social services," he explained. "We help as translators to make appointments, connect them with other immigrant communities, and conduct meetings on how to cope with life here, like how to navigate banking systems and shopping. Representing God to these people is a blessing!"
While inviting immigrants to worship is important, Rev. Yohannes believes it's equally important to keep them in the Word of God. "When the people have the Word in their language, they have Jesus!" he exclaimed. "Using LHF books, in their language, makes things easy."
Why the 'Small' Catechism?
For textbooks, "we use the books that LHF has already produced!" explained Rev. Yohannes, their instructor. "These men have not lived lives in stable countries, and many of them have very little theological education. But they come with faith."
Their studies begin with the Small Catechism.
"I don't know why we call this book 'small,'" Rev. Yohannes said. "It is not a small book! Martin Luther condensed it, but after the Bible, this is the Church's number one book! You can take all the books I have on my shelf, written by professors with PhDs, but don't deprive me of this book!
"You see how God prepares the ground," he concluded. "It is much more fruitful to produce literature that fits a society than to send 10 missionaries to a country. Missionaries come and god, but the Word of God, when it is in the hands of the people, will continue as a mission among those ethnic groups. So for me, it is better to produce one book than to send 10 missionaries for 10 years to plant a church."
Only with your help can this important work continue. Prayerfully consider how you can help support LHF projects.
Throughout the 2022-2023 school year, the students' mission offerings added up. Fifty cents here, a few dollars there... and soon the gifts from dozens of...