Though the devil's arrows fly on all sides, they are nothing against the shield of faith, taught in God's Holy Word! Read more about Burkina Faso (a West African country roughly the size of Colorado), where our Lutheran brothers and sisters faithfully proclaim that "Jesus Never Fails."
Rev. Tanpo Tchiritime, president of the Evangelical Lutheran Church of Burkina Faso (ELCBF), writes:
"Burkina Faso (meaning 'country of honest men') is a beautiful country with great cultural diversity, endowed with many tourist advantages which attract many people. But it is a country with a low Christian rate – only 23%. So a lot of work remains to be done there.
"Since 2015, this beautiful country has been ravaged by a terrorist war that has left more than 20,000 dead, thousands missing, nearly 2 million internally displaced people, and hundreds of thousands of refugees in the neighboring countries. Educationally, there are more than 4,000 schools closed and children out of school. On the social level, the ordeal is palpable with an ever-increasing number of street children. So, the situation is dire here.
"In terms of the Church, we had to close six parishes and seven preaching points. 42 church members have been killed, and one deacon kidnapped. He has not been released to this day, and we don't even know if he is still alive.
"The big problem we are facing right now is the inaccessibility of many areas where church members are, because the roads are mined and they are arresting and killing people. The other challenge is that we pastors who find ourselves in those areas are targeted by terrorists and therefore our movements are no longer easy. There is also the dropout of children due to the closure of schools. These children who constitute tomorrow's succession of our Church must be educated. The trauma of many people has led to madness in some church members. People no longer being able to cultivate or work has led to poverty and disease among many.
"In short, the consequences of this war, which has lasted for years and is only getting worse, are legion."
In the midst of such terror, the Church continues to PREACH AND teach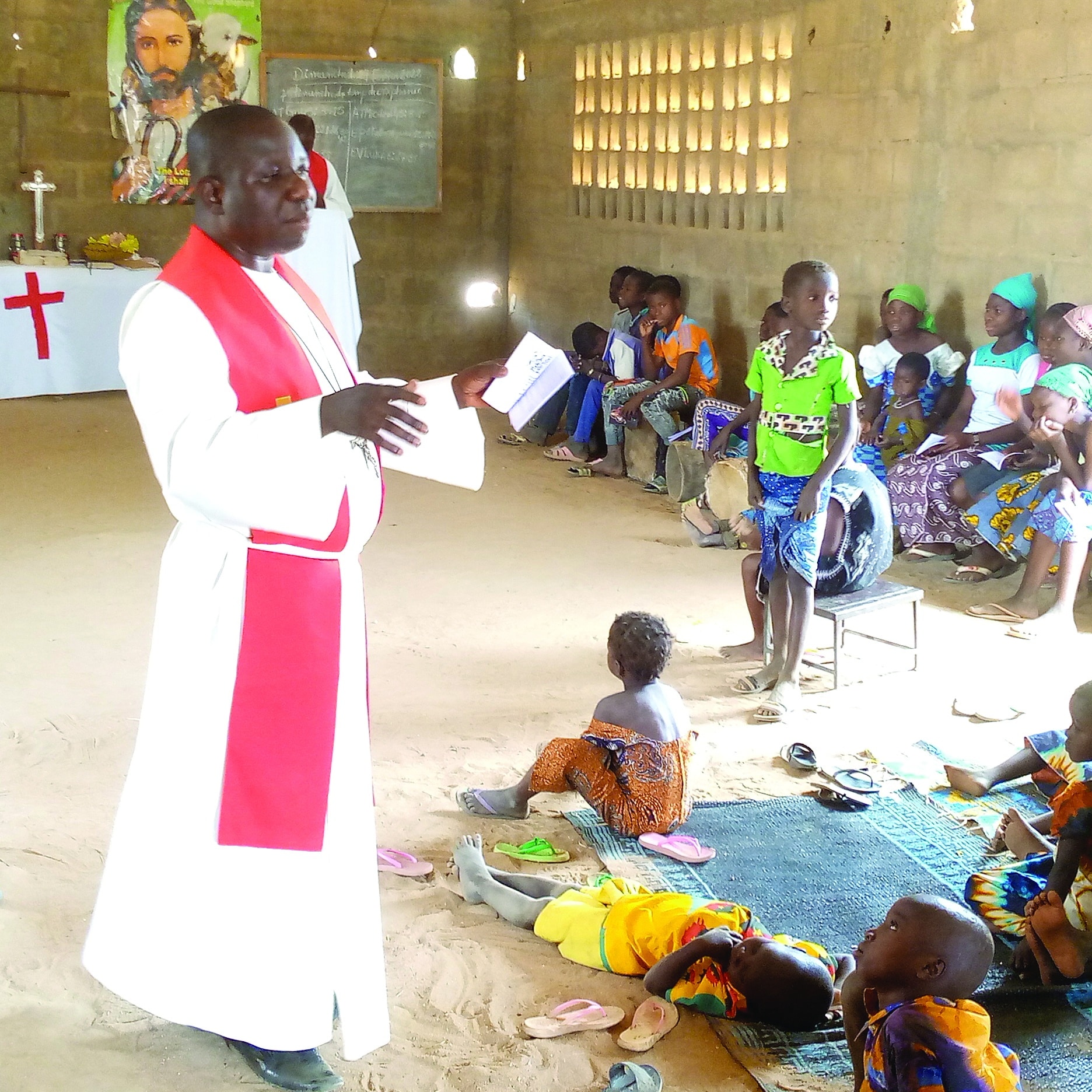 Despite these many obstacles, ELCBF pastors strive to continue preaching and teaching their people. The books LHF is translating and publishing into the Gourmancema language, including Luther's Small Catechism (pictured on page 1) and the "Jesus Never Fails" devotional booklet, are proving immensely helpful.
"Having good study tools in the local language [equips] our members, even those who have not gone to conventional school, to be able to be fortified by effective and just teaching," said Rev. Tanpo. "Second, they can bear witness easily and profess faith in Jesus Christ. And of course, the catechism is vital for teaching catechumens and children the confessional Lutheran faith.
"In the short time since we have printed and distributed, already good effects are seen. The women have begun to study the catechism in women's groups under the guidance of their pastors. The children are also organized into different study classes, according to age. Their enthusiasm is quite great and produces spectacular results because they are hearing in the local language!
"In addition, the 'Jesus Never Fails' booklet has proven itself here, because in this time when people have lost the peace, their family members, their property and businesses, so that there is no one who has not suffered a hard blow, this devotion has helped people find the way to salvation through Christ Jesus. Its words are greatly appreciated!"
Throughout the 2022-2023 school year, the students' mission offerings added up. Fifty cents here, a few dollars there... and soon the gifts from dozens of...