The Word is a gift for all – and yet many are denied. But perhaps there is a way…
In an Asian country far across the ocean, three young children gather around their computer. Soon their American English conversation teacher will join them in a video conference, where they will improve their English skills by chatting about a variety of topics – including their assigned Bible lesson for the day.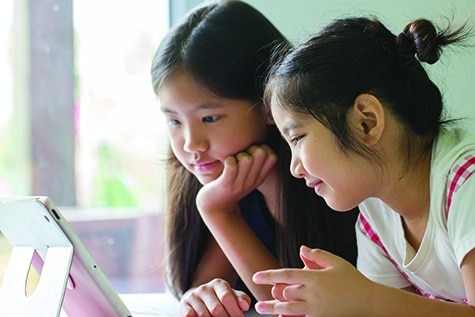 The children are part of a Gospel outreach program devised by Rev. Jim R., a retired Wisconsin Evangelical Lutheran Synod missionary. The program is part of a mission organization called 316NOW.
Because it's illegal to openly evangelize in this country (country and pastor names omitted so Rev. R.'s work isn't threatened there), having private conversations via the Internet has proven to be an excellent way to introduce unbelieving children to Jesus Christ, as well as to strengthen the faith of young believers and their parents.
The classes are led by American volunteers. "Classes last for about an hour," Rev. R. explained. "After an ice-breaker conversation, we move into the English portion of the lesson. For example, we might practice how, when we ask a question in English, our tone goes up at the end. Or we might practice pronouncing challenging words."
"Then we move on to our Bible lesson for the day," added Rev. Charlie H., another pastor who coordinates the Bible lessons. "If we've been learning about creation, for example, the teachers will ask, 'What do you think about that, how God was able to make our whole world in six 24-hour days?' So it's an opportunity for the children not only to learn the facts, but the Holy Spirit uses those facts to strengthen their faith in the Savior."
Rev. R. travels regularly to Asia to visit the program's adult leaders (all Christians) who oversee the students. He is always sure to include LHF's translations of the Small Catechism and A Child's Garden of Bible Stories to give to the participants. But even more written materials are needed for teaching the classes, and LHF is actively investigating the best ways to provide them.
Could you be a world missionary?
"Last year, we had about 50 kids in 9 different cities participating," Rev. R. said. "This year, without recruiting, our enrollment has increased to somewhere between 200 and 300 children. So now we really, really need American volunteers to help teach them!"
Rev. R. emphasized that no special skills are needed to be a 316NOW volunteer. Sunday school teachers or anyone with a heart for sharing the Gospel with children can be effective English conversation teachers. "I like to say that you can be a world missionary from your couch," he said.
As Rev. R. looks to the future, he and his team are excited about mission possibilities opening up in other Asian atheist and Muslim countries where governments don't allow the Gospel to be freely shared. "It's like an invisible Sunday school," he said.
Plans are also underway for that "invisible Sunday school" to expand. Though the program is currently set up to last two years, Rev. R. would like to see it become a three- or even four-year program. His vision is that the students would study Bible history lessons for the first two years and then expand into the Small Catechism for another year or two, using LHF's Chinese catechism translation as the primary text.
For information about being a 316NOW volunteer, email Rev. R.
Only with your help can this important work continue. Prayerfully consider how you can help support LHF projects.
Night was falling, and young Kitwana was nervous. Where would he sleep tonight, his first night on his own? He rubbed his eyes, recalling the...