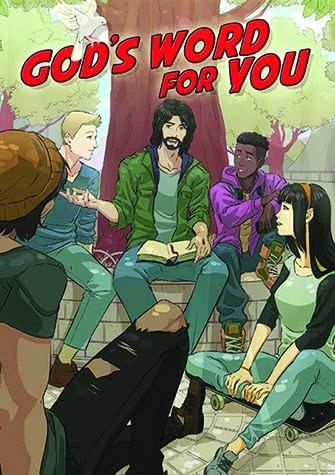 After years in development, LHF has printed a new Bible storybook specifically for teens. Now available in English, God's Word For You includes 38 Old Testament and 32 New Testament lessons in its 300 pages, each colorfully illustrated in a style particularly appealing to youth. Each lesson includes:
 Biblical sources at the start of each story
a "Gospel Connection" that finds the Good News and connection to Christ's redeeming work, whether an Old or New Testament lesson
"Words of Hope," a related Bible verse that reminds the reader of Jesus' love for him or her
a Bible timeline, illustrating the progression of Biblical events and underscoring the fact that the Bible is about real people and real event
Copies of the English teen Bible book can be requested from LHF for a suggested donation of $10 per book.
Best of all, every copy of God's Word For You that you order provides a FREE Bible storybook to a Christian teen in another part of the world, written in a language they can read and understand!
"The quality of this book, both in the paper and in the words printed on it, is second to none," said Rev. Dr. Matthew Heise, LHF executive director. "It's a wonderful book for home devotions or sharing in youth groups, and what a blessing that through readers' donations for their English copies, LHF can translate and print for teens around the world!" Translation is now underway in 4 different languages.
Throughout the 2022-2023 school year, the students' mission offerings added up. Fifty cents here, a few dollars there... and soon the gifts from dozens of...