Faithful LHF supporter Beata Raedeke writes: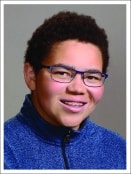 "Chipper is 14. He is my great-grandson. My late husband and I assumed custody of him when he was two years old.
"I was directly involved with Chipper's confirmation instruction [at Mt. Olive Lutheran Church in Loveland, Colorado] for the past two years. Parents are encouraged by Pastor Nierman to attend the confirmation classes with their students. I attended all of the classes with Chipper.
"When we announced Chipper's upcoming confirmation in early June, friends and family asked, 'What can we give Chipper?' He already had the most obvious: Bibles, hymnal, catechism, concordance, jewelry, crosses, etc.
"After Chipper prepared his Profession of Faith paper, we talked of the value of being able to express what we believe, and ways to do that…most importantly regularly 'feeding' our faith, being always mindful of our responsibility to share, and to recognize opportunities.
"Chipper and I have attended and supported LHF presentations here in Colorado. I have shared the LHF newsletters with Chipper to help educate him regarding world missions.
"When I suggested we invite friends and relatives to send a gift to LHF to mark his confirmation, he gave a thumbs up! We discussed that this could also be a good way of introducing our friends and family to the work of LHF and world missions. I contacted (LHF founder) Pastor Bob Rahn to see whether we might direct the gifts to a suitable project. We were given two options: Luther's Small Catechism or the Jesus Never Fails devotion booklet, in the Yala translation for people in Nigeria.
"We directed the funds to the Jesus Never Fails translation and notified the folks to whom we sent confirmation announcements that gifts would be sent to LHF to fund this project. We gave them the address of LHF and suggested if they wished to honor Chipper in this way, they could either send the designated gifts directly to LHF or give them to Chipper to send.
"When we mailed our grateful thank you notes, we included a copy of the English Jesus Never Fails. Chipper also received a considerable amount of cash gifts in addition to the LHF gifts. He opted to send $500 of those gifts to LHF, too! Blessings to LHF as together we serve our Savior, the One who 'never fails' us."
Editor's Note: Due to the funding that was provided, LHF is printing not only 3,000 copies of the Yala "Jesus Never Fails," but also 1,500 copies of the Small Catechism in the Hausa language for Nigeria. To God be the glory!
With your help, you can work together with people just like Chipper to ensure that this important work continues. Prayerfully consider how you can help support LHF projects.
Night was falling, and young Kitwana was nervous. Where would he sleep tonight, his first night on his own? He rubbed his eyes, recalling the...