In recognition of LHF's recent 25th anniversary celebration, Concordia Publishing House (CPH), the publishing arm of The Lutheran Church―Missouri Synod, has presented an incredible gift to the Lutheran Heritage Foundation: 500,000 English-language copies of A Simple Explanation of Christianity (Small Catechism enchiridion).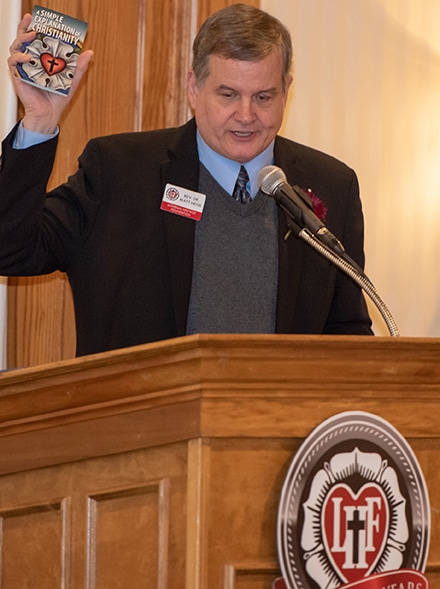 LHF will distribute the catechisms to mission contacts throughout Africa, Asia and Southeast Asia, and Europe.
"We were overwhelmed by CPH's generosity in sharing this incredible gift to the world through LHF," said LHF Executive Director Rev. Dr. Matt Heise. "Undoubtedly, these little books will be very valuable in sharing the Gospel with people in other countries who also speak and read English."
CPH is also celebrating a milestone with their 150th anniversary. "For 150 years, our goal has been to send the Gospel to all corners of the globe," says CPH President Dr. Bruce Kintz. "Our prayer with this gift is that through this partnership, the clear message of the Gospel will reach more people who need Jesus."
Luther's Small Catechism remains the foundation of LHF's translation work, no matter the language or country. "For people who don't have a Lutheran pastor nearby to explain the Bible's teachings, or for others whose literacy levels make understanding Scripture a challenge, the catechism remains the best answer to the centuries-old plea, 'How can I understand?'" Rev. Dr. Heise said.
"[The Small Catechism] is one of the most profound summaries of the Bible's key teachings and the basics of the Christian life ever written," agreed Dr. Kintz. "Because of its clear, simple, and memorable presentation of the Gospel, it's ideal for outreach and for educating new Christians. We hope that these little books lead thousands to Christ and build up the church around the world."
LHF has pledged to match CPH's gift with 500,000 catechisms translated into the languages of the world.
As LHF looks to the next 25 years in mission, the mission's leadership has voiced their commitment to matching CPH's English catechism gift by printing 500,000 catechisms translated into the languages like Chinese, Swahili, Arabic, Hindi and Spanish.
"Since the earliest days of LHF, the Small Catechism has been the key to building up churches worldwide," said Rev. Dr. Heise. "With this gift and LHF's match, we have the opportunity to introduce a million new believers to the Savior!"
Click here to support this important endeavor. Every $5 you give allows LHF to publish a Small Catechism with Explanation or 5 enchiridions for our brothers and sisters in Christ!
Throughout the 2022-2023 school year, the students' mission offerings added up. Fifty cents here, a few dollars there... and soon the gifts from dozens of...