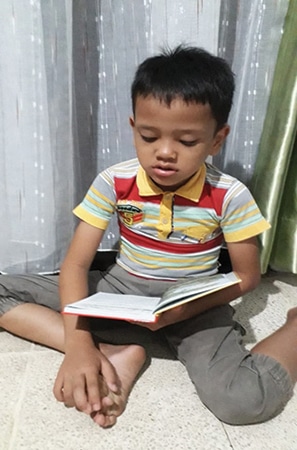 Thanks to the generous support of American Lutherans – including Sunday school and day school children who adopted "Come and See Jesus!" with their mission offerings – LHF has printed 46,000 Lutheran books for the people of Muslim Indonesia!
"It cannot be expressed in words what children in the United States have done for their friends and relatives in Indonesia, whom they have never once met, separated by distance and time," said Imelda Aritonang, LHF's coordinator in Indonesia. "It is amazing how the Holy Spirit works through these children. We are really grateful!"
Titles printed in the Indonesian language include the Small Catechism and accompanying workbooks, Lutheranism 101 for Kids, A Child's Garden of Bible Stories, The Way of the Cross and the "Jesus Never Fails" devotion booklet. Incredibly, many of these books have been freely handed out in Indonesia's public school system, where students are allowed to take Christian Religion classes.
"To be honest, people in Indonesia are very poor or lack sources of knowledge about Lutheran teachings," Imelda said. "It is not easy to find books of Lutheran teachings with such good quality and translation you can rely on.
"Indonesia has pockets of Christianity, yet sadly the faith in those areas has begun to erode, due to the rapid of expansion of Islam. Who can help our children, the future of the Church, if not us?" Imelda asked.
Night was falling, and young Kitwana was nervous. Where would he sleep tonight, his first night on his own? He rubbed his eyes, recalling the...